The Scottish Independence Referendum has been granted by the British government, and it has been tentatively set for autumn 2014. There are many unanswered questions, however, as to what the Referendum actually means and who will be allowed to vote in it. One of the effects of the Union has been cross-border migrating. Therefore the question arises whether or not the Scots in England and the English in Scotland will be allowed to take part in the voting process. Also, the very theory that the referendum is an exclusively Scottish matter counteracts the reality of the union and the fact that the devolution of the country will affect all citizens of the UK. It is only fair that they should have the right to weigh in on the debate.
I've been trying to stay abreast of happenings through my friends and acquaintances from "the Auld Country." I have found that the Independence question is far from a universal, popular movement. One friend from Glasgow said breaking up the UK would be one of the worst mistakes ever. Another friend from Kirkcaldy said that the referendum and its accompanying endless speculations were getting ridiculous. A friend in London whose father was a Scot said he believed the Scottish people were being manipulated by canny politicians. Other Brits that I follow on blogger often express their patriotism towards all four of the nations that comprise the union. They seem to have come to peace with that, while every government is a flawed organization, pulling it apart piece by piece improves nothing.
Of course, there are quite a few advocates for independence, but many of them seem to rely on aggressive displays and misleading information to make their point. They say that independence will bring economic prosperity to Scotland by giving her further access to oil and natural gases in reserve on the North Sea. However, they rarely highlight the overwhelming amount of expense that becoming independent in and of itself would entail. They emphasize The Wars of Scottish Independence, which gained a wave of international publicity thanks to Mel Gibson's woefully inaccurate Hollywood epic, Braveheart, but strongly insist that the modern benefits brought about the union lack relevancy. It all could be truly laughable, if it weren't so lamentable.
Sadly, a lack of historical education world-wide may well be the historically rich UK's undoing. It is frustrating to realize how many people are taken in by the deceptions, including many Americans who seem to relish in the concept of Scotland breaking away from "England." We are cultural rebels, and we are keen to connect to our own struggle for independence by championing similar movements, logical or not. We like to believe that the Scots were laid low by colonialism and are now finally asserting their rights of self-determination. It makes us feel fuzzy inside, and many of us can gleefully join the propaganda train and coyly remark, "It seems the Scottish Lion is finally going to roar!"
Ironically, just one year after the 700th anniversary of the Battle of Bannockburn in 2014, the Battle of Waterloo will be remembered on its 200th anniversary in 2015. Waterloo was one of the most important battles in world history, where English, Scottish, Irish, and Welsh troops fighting under the Union Jack succeeded in defeating Napoleon, a tyrant far worse than Kind Edward II of Bannockburn infamy ever was. Logically, Waterloo should gain far more publicity than the medieval Battle of Bannockburn and serve as a source of historical pride and unity for all Britons. However, the Nationalists would rather discount the Scottish soldiers who participated in the Napoleonic Wars as being used as cannon fodder, even though the distinguished careers and high ranks many of them reached proves that this revision is a complete fallacy.
I can't help but grow more and more worried with each passing day when it comes to potential outcome of The Scottish Independence Referendum. I feel strongly that Britain's history and heritage is too precious to surrender to the mercy of those blinded by their own prejudices, and that is why I take an active interest in the ongoing debate.
The best bet is to beat the Nationalists at their own game, show them up in front of their potential supporters, and send them off with their tale between their legs two years hence. Of course, this will take a lot of work. And prayer. Lots and lots of that.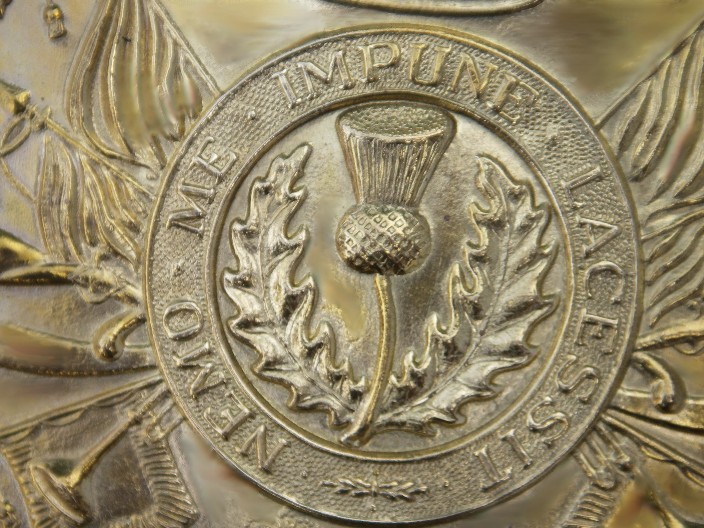 The Scottish Thistle on British Military Regalia