does stand for something, in case you've been wondering. I had to rack my brain to come up with a good and meaningful blog title, and I prayed that I'd be inspired with the right one. So here's how it came to me.
In the early years of my life, I fell in love with the legend of Robin Hood and his Merry Men. It started with the Walt Disney cartoon portraying all the characters as animals, and moved on to Errol Flynn and Richard Todd and Richard Greene. I started collecting Robin Hood memorabilia like dolls, comic books, lunchboxes, etc. and still do. Perhaps the attraction had something to do with the "rebel spirit" and daring of the nobleman-turned-robber who became a champion for the common people under an oppressive regime. Perhaps it was the lovely and clever Maid Marian with her charm and charisma that I wanted to emulate. Anyway, once it took hold of me, it stuck like glue.
This attraction soon drew me to be interested in all things English, so this is the very earliest source of my love of
Britain
. Therefore, I owe a deep debt of gratitude to the Prince of Thieves who stole my heart at age six. Of course, we will never know if Robin Hood really existed, although it is likely that his legend took shape around a number of different men who defied the oppressive Norman poaching laws and lived as outlaws and outcasts in the great forests of the Northern counties of
England
. The spirit of resistance and that beautiful blend of history and romance built a legend which each passing generation has breathed new life into. Robin Hood can be called the quintessential British hero of the common man, just as King Arthur can be called the quintessential British hero of the gentry.
But between the two, Robin Hood somehow always seems to come out on top. The sparkle in his eye as he draws his bow, the sheer defiance that symbolizes
Britain
to such a high degree, is often lost in the eloquent prose of the Arthurian cycles. Although Arthur in his raw essence was a symbol of resistance to the Celtic tribes, the embroidery of his legend took a different turn than that of Robin Hood's. Somehow, in the subconscious of many legend-lovers, Arthur tends to frown down on you and evade direct contact, while Robin tends to grin at you and look you straight in the eye. And in Robin there is something strikingly down-to-earth that Arthur lost by hanging around too much with nymphs and wizards. We can all relate to a tale about men struggling to maintain there freedom and enduring the harshness of being social outcasts. But, although Arthur's adventures do contain many allegories and demonstrations of the complexity of human nature, they step outside of our world and drift just beyond our reach.
Despite their differences, one thing that King Arthur and Robin Hood held in common was that they were recognized as strong Catholic figures in British tradition. Arthur was recorded as bearing an image of Our Lady on his shield during his famous battles with the Saxons. In fact, during the Protestant Revolt in
England
, two graves at
Glastonbury
which certain monks claimed contained the remains of Arthur and Guinevere were desecrated by Protestants because they were seen as remnants of the old religion.
Robin Hood was always portrayed in the old tales as being a pious Catholic, in spite of the fact that he was not above robbing and making fun of pompous clergymen. He is shown as risking capture in order to attend mass and recruiting Friar Tuck to be the outlaw band's chaplain. He also refused to be disturbed in prayer, even when danger was imminent. During the Reformation, the cult of Robin Hood also came under fire, and recusant Catholics were branded as "Robin Hoods". It was only the people's refusal to let the old legends die that kept the stories of King Arthur and Robin Hood alive.
There is a nursery rhyme that depicts Robin praying the Rosary to Our Lady who, in the early ballads, was the only woman in his life:
"Robin Hood, Robin Hood,
Is in the mickle wood!
Little John, Little John,
He to town is gone.
Robin Hood, Robin Hood,
Telling his beads,
All in the greenwood
Among the green weeds.
Little John, Little John,
If he comes no more,
Robin Hood, Robin Hood,
We shall fret full soar!"
This is little poem that gave me the idea for the name of the blog. Robin Hood fought with his longbow, the symbol of British pride and resistance, and prayed with his Rosary Beads, the symbol of the faith of the people and the refusal to let it die. Indeed, it was the sacrifice of the Catholic "Robin Hood" Recusants that kept the spark of Catholicism from being completely smothered by the turbulent winds of the times. To this day, there are Catholic men and women from the
Northern England
who can trace back their lineage back in an unbroken line of faithful Catholics. It is their story that best exemplifies the spirit of Robin Hood, and it is to the Catholic Recusants that I have dedicated this blog.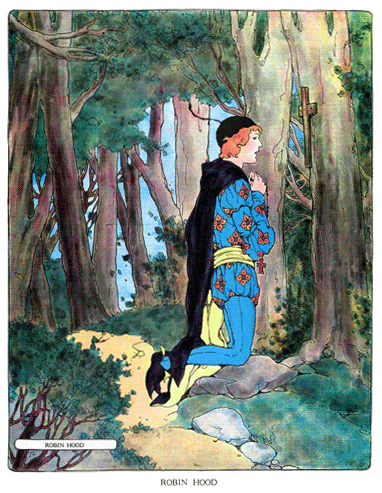 "Robin Hood, Robin Hood, Telling His Beads...."