is a British political blog dedicated to sharing perspectives on the preservation of the UK. And, just recently, I was invited to contribute to it. To be able to write alongside the Brits on this issue has been a great honor for me, and I thank them for their willingness to let me express my opinions on the union as seen from afar.
The United Kingdom has always held a special place in my heart because of the sheer richness and complexity of her cultural heritage. I deeply admire her historical strivings towards individual liberty, the supremacy of law, political stability, and national unity. But my interaction with the British people has made the keenest impression of all on me. Caring, frank, intelligent, and hard-working, they also display a patriotism that is level-headed and sincere. Obviously, I have been blessed to befriend the cream of the Brits, those marvelous people who acknowledge what they are and make the most of it.
However, I'm afraid the UK is currently plagued with those who would prefer to disown their heritage and go in search of a manufactured alternative. To exchange flawed wood for smooth-looking plastic seems to be their motto. It is the wail of spoiled children in search of a new toy, and the cry of adolescent rebels in search of a worthwhile cause. The sense of community and common purpose that should be the backbone of all nations seems to have been fractured in their minds, and they have instead adopted a narrow vision of "home rule" patriotism to make up for it. This, I believe, is directly connected to a profound sense of disillusionment that is becoming a national identity crisis in Britain.
The entire platform of the Scottish Independence Referendum rests on the presumption that the British identity is either non-existent in Scotland or so trivial that it can be easily discarded. In fact, it has been a valued part of Scottish life for generations, welded by blood, sweat, and tears. It is an indisputable fact that Scotland has gained many benefits from her place in the union, including sound finances, military strength, governmental stability, travel convenience, and cultural development. Moreover, she was able to achieve all this without ever abandoning her major institutions or distinct identity. This, I believe, is something that all Scots should be rightly proud of. It is proof that compromises
can
be successful, and that unity in conjunction with healthy diversity
is
possible. For this Scotland does owe respect and loyalty to the union of her own making.
In recent decades, it has become common practice to slander Britishness because of its inextricable association with Imperialism. It's a modern trend that enables British people to disassociate themselves from shameful incidents in their national past. This, in great part, makes the dissolution of the UK appealing to some who see it as "the death throes" of British tyranny. This attitude purports that Scotland is, in fact, a colony from the old Empire, chafing beneath its chains and yearning for self-government, rather than a free member of a democratic, constitutionally sound union. In some circles, the United Kingdom has been made to sound like an equivalent of the Soviet Union. Of course, no union of mortal creation is without flaw, but by and large, the UK is functioning admirably well as a modern democracy to this day.
Arguments have been put forward by the Scottish Nationalists indicating that independence will be a type of "escape" from fighting in unpopular wars, dealing with governmental cut-backs, and having nuclear waste dumped on the land; furthermore they claim that Scotland will grow more prosperous by gaining further access to oil reserves in the North Sea. In addition to these points, some overly analytical minds are taking forays into the medieval land-grabs and romantic lost causes, simplifying their complicated motives to the point of silliness, and applying them to the present political situation in order to champion a new order of would-be fragmented Republicans. The shallow glitz-and-glitter media hype by celebrities of every stripe is sickening. More often than not, the whole current of events is being painted as a David-and-Goliath-type conflict in which the underdogs are the Scottish Nationalists, "yearning to breathe free".
First of all, the problems of modern society involving wars, budget cuts, and nuclear waste are being dealt with UK wide, and not just in Scotland, making the Nationalists arguments take on a whiney, "poor me" dimension. All modern nations of any power on the world stage must face such things. Bailing out on the union to try to get rid of them is not only immature, but also shockingly self-interested. The claim that Scotland will have better access to North Sea oil is questionable at best, and the potential for financial collapse while embarking an independent experiment is far more probable. Secondly, the two-dimensional view of history is not only a slander to the UK but also a disservice to the world of historians. Trying to apply modern standards to past events while at the same ignoring whole chunks of meaningful history in order to forward an agenda is despicable. Also, to ignore the process of development present in all cultures is to lose track of the ebb and flow of the human story.
In conclusion, I see no substantial reasons why Scotland should break away from the UK and no proof whatsoever that she would be better off as an independent state. In fact, what evidence there is leads me to draw the opposite conclusion. As one of my Scottish friends put it, it is a choice between being part of a country that shaped the world, or becoming a country shaped by the world. In my opinion, the Scottish Nationalists are perpetrating the worst type of betrayal. It is a betrayal against all the years they have reaped the benefits of British citizens. It is a betrayal against their ancestors who fought and died for Britain. It is a betrayal against all the pain and labor that went into making her a success. I write this as the citizen of a union that nearly split up and disintegrated several centuries ago, with the full realization of how blessed we Americans are that the USA remained united.
To British readers, especially in Scotland: Remember, you have a priceless heirloom in your country, and I believe it would be deeply tragic to misuse it. Polish it till it shines; don't smash it. Many thanks to Open Unionism for the invitation to write for them and their support.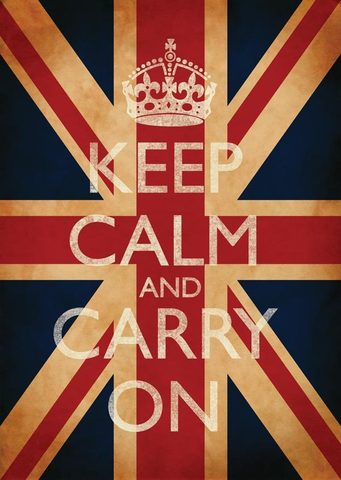 Good Advise for Any Occasion