has been a hot topic on this side of the Atlantic spread. Personally and politically, storms of different sorts are raging as well.
Yesterday, the dreadful "Frankenstorm", Hurricane Sandy, hit the East Coast with all her feared ferocity. New York and New Jersey were hit the hardest, with entire neighborhoods being destroyed by flooding and wind damage. Millions of power outages and fifty storm-related deaths have been reported overall. May their souls rest in peace. My own native state was also hit by the tempest, wreaking havoc along the coastline and Ocen City. Thankfully, my family lives inland, so we were spared any serious damage. The wind did whip up a fury and our yard is a wreck, but our power stayed on. Our lights did flicker twice, but never went out completely, even though we were almost certain they would. Our attic sprung at least seven leaks and we took on some water in the basement, but all that is sustainable. Thank you, St. Barbara, patroness of storms, for protecting us! Also, thank you to my friends on both sides of the pond who emailed me to make sure my family and I made it through the storm unscathed.
On a personal note,
I recently came down with a miserable cold which started with an intensely painful sore throat and progressed with a suffocating stuffiness that has had me blowing my nose none-stop both day and night, making it very difficult for me to sleep. This, accompanied by the usual cough, is my present state. Thankfully, I am at home with my loving family, reasonably good heating, and a well-stocked kitchen. Plus, my dad recently picked up some library material waiting for me behind the counter, and I have been nursing my misery by watching an odd variety of films (
The Voyage of the Dawn Treader
,
Horatio Hornblower
,
Bertie and Elizabeth
, etc.) and listening to the soundtrack of LotR. Yes, even though I am not a Ringer, I can appreciate good music, and the Peter Jackson films did dish out some truly lovely pieces. I especially like "May It Be" and "Aniron (Theme for Aragorn and Arwen)", both of which are sung by Enya. I did find Aragorn and Arwen's romance to be one of the gentle refrains in the films from hideous beasts and similar savagery, and the musical score attests to this.
Election Day is closing in with unbelievable speed, and it's all hand-to-hand combat from now til then. The First Presidential Debate showed the Republican Candidate Mitt Romeny to be a cool, confident, and keen challenger, and made the Democratic President Barack Obama to appear like a lethargic, lackadaisical, and lackluster incumbent. The polls showed popular opinion shoot up for Romney in the following days. Next, the Vice-Presidential Debate took an almost laughable twist as the Democratic Vice-President Joe Biden snickered, sneered, and derided his opponent, Republican Vice-Presidential Canditate Paul Ryan. Some say that Ryan should have been more assertive and prevented Biden from interrupting him and making rude insinuations. However, the polite and laid-back visage displayed by Ryan just served to make Biden's antics seem more repulsive and childish to many viewers.
The Second Presidential Debate saw a much more lively President Obama and a much more aggressive display of "in your face" arguing on both men's parts. The Town Hall format allowed selected members of the audience to ask questions to the candidates, and one question seems to have summarized the general thoughts of many Americans: a man who voted for Obama in 2008 asked why he should vote for him again. Romney was quick to nail Obama on his atrocious record of debt and the deplorable financial situation in general. Then the question about the Benghazi attack came to the fore, causing a stramash over when Obama had acknowleged it as an "Act of Terror" as opposed to a spontaneous demonstration sparked by an anti-Islamic vido on YouTube. The debate ended as a tie, with Romney still holding his edge in the polls.
In a "break-time" function, both Obama and Romney attended the Al Smith Dinner in New York at the invitation of Catholic Cardinal Timothy Dolan. Both candidates took some smart but good-humored jabs at one another, and Romney proved he was not the stiff he has so often been portrayed as. Although there was much consternation in the Catholic world when it was first announced that both candidates would be invited to the dinner (considering the fact that Obama has crossed swords with the Catholic Church in general and Cardinal Dolan in particular over the HHS Mandate), the event demonstrated a refreshing sense of fair play and decensy that in intergral to the American Spirit.
The Third Debate saw Romney adopt a new strategy: the "hugging" method. Instead of obliging the President's attempts to paint him as an unreasonable radical, Romney agreed with numerous Obama policies and refused to be drawn into the Benghazi subject again. The result was that once again the result was a tie, with no definate winner and Romeny still holding the edge in the polls. Now the determining factor will be the states that can be won by the opposing parties. Ohio and Wisconsin play big on the swing-state stage.
Personally I am a third generation Republican, and my grandfather was active in politics. But that is only a small part of why I support Mitt Romney in this election. I also believe that the present administration is taking great risks in the area of national security and crashing this nation into the rocks of debt and depression. But first and foremost, I am pro-life and pro-traditional marriage. I believe in the sanctity of the sexual act as a life-giving one, and that it should not be misused and debased. I believe that all life is sacred, from the moment of conception to natural death. These are not just my personal beliefs, but they are the official teachings of the Catholic Church. And these are the beliefs that the Obama administration has stridently opposed, to the point of infringing on religioius liberty. Mitt Romney, on the other hand, is running on basic Conservative principles and showing a much superior attitude towards life issues than Barack Obama
Hence, I must address my fellow Catholics and Americans: You cannot vote for a fiercely pro-abortion, pro-homosexual "marriage" candidate when there is a better option and consider yourself a member of the Church in good standing. You automatically excommunicate yourself by abandoning the laws of God. I have Protestant and Mormon friends who are more in line with the teachings of our Church than some Catholics. For God's sake, don't disgrace us and make us endure another four years of this administration which will bring down a swell of anti-life choices. To those who are thinking of voting third-party or for a candidate who is not even running: I beg you to reconsider. It is our duty to do whatever we can to defeat evil, even if that means choosing "the lesser of two evils", as some people might consider it. This is a national emergency. We must stand up and be counted to make a difference.
And so we Americans have many storms to weather. May Our Lady, Patroness of America, and St. Barbara, Patroness of Storms, be our guiding lights through it all.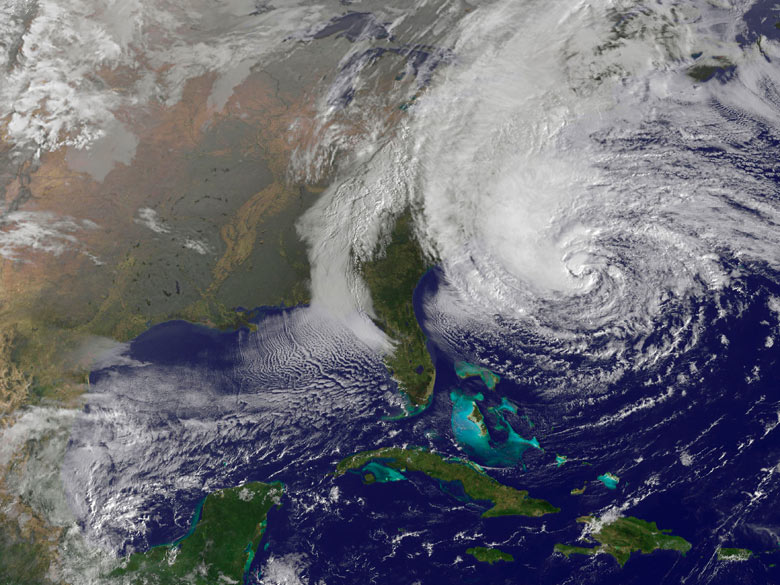 Hurricane Sandy
Gov. Mitt Romney and Pres. Barack Obama