and with them came a whirl of musical gigs and festive celebrations. My music teacher rallied her songbirds for another Christmas show in early December at our local nursing home. As usual, there were quite a few alterations to be made, hither and thither! First, I was supposed to sing "Good King Wenceslaus"; then my music teacher revealed her adamant dislike of the song (???), and the piece was switched to "Past 3 o'clock", a charming piece with a marvelous old English flare. However, we soon realized that it was much better sung by a choir then by a single voice, and the idea was dropped.
Before long, it was decided that I should sing a solo of "Little Drummer Boy", which I had hitherto been practicing as a duo with my father. To replace that piece, dad and I decided to sing "I Wonder as I Wander", taking turns singing each verse, and then coming together for a tag. All that basically settled, more confusion ensued. One of the main female vocalists who was supposed to sing "Ave Maria" and quite a few other hymns couldn't make it to the show. Hence, I was elected to sing "Ave Maria" instead, a rather tense but fulfilling experience. Unfortunately, however, the show schedules were never updated, so it was quite a scramble to figure out which songs marked "Joan" were still going to be performed, and who would perform them!
And there was the Christmas Fake Book caper. The day before our last practice, our maestro-ess was unable to locate her main book of holiday sheet music, and a flurry of confusion ensued. I contacted my fellow musically inclined friend who lives in
Texas
, and asked her if she possibly had a book of sheet music with the following Christmas songs....blah, blah, blah? She took down the titles, located an old Christmas song book, photo-copied the sheet music, and sent them to me via email. To her, the
Mt.
Airey
Performing
Art
Center
and
St. John
's Singers are eternally grateful!
In my humble opinion, the show itself turned out to one of the best Christmas Productions the Madame ever spear-headed. We really seemed to have it together for this one (despite the lack of the opera-singer ringer!), and we had a show complete with solo vocalists, ensemble singers, an organist, a penny whistler (yours truly), and a quartet of violinists, complete with ties and tuxes! The sad thing was that not as many people turned out as we had hoped. Apparently another caroling group was booked down the hall and the news of our show didn't make its way through the nursing home the way we would have preferred. However, entertainers must learn to accept the way things fall, and realize that touching hearts is our real purpose, whether they be many or few.
I wasn't feeling well on Christmas day (in retrospect, perhaps it was a touch of the infection to come....), so I spent a quiet holy day at home, setting up our fiber-optic Christmas Tree My second Christmas, munching on some pecan brownies our neighbors gave us, and watching
The Nativity
. Several days later, when I was feeling a little more like myself, we went to another nursing home to sing along with
St. Joseph
's Homeschool Group. We had recently reconnected with a family who used to go to
St. John's
when I was little, and they had invited us to accompany them on a Christmas Caroling venture.
Upon arriving and greeting my friend, J., who had recently returned home from college from Christmas break, we were all directed to a rather small room for us to assemble our equipment. My dad became the official "music-stand-man", as the kids produced various instruments to serenade their audience. When the show started, we took turns singing in unison a variety of popular carols and playing our respective instruments. We had horn, flute, piano, and, of course, penny whistle! ;-) At the end of the show, J. invited me to a Tolkien-themed costume party she was having in honor of the auspicious author's birthday. While I do not profess to be a Tolkien-ite, I'm not one to turn down an invitation to a friend's party either! A review on that enjoyable event will be forthcoming......
After leaving the nursing home, my dad and I called our music director friend to meet up with him for lunch. The time was set, but we stopped off at "Hobby Lobby" quickly for some craft supplies mom had requested. Being in there, I started to think about the HHS Mandate and the pressure it is putting on businesses like "Hobby Lobby" that are run by people whose religious beliefs are in opposition with providing contraceptive coverage for their employees. Our "free exercise of religion" has been compromised. We are going through a very dark time in
USA
.
Meanwhile, Mr. Maestro called us on our cell and let it be known his keys got stuck in the ignition, he had to get towed, then go home and take a shower...By the time we got to him, it was later in the afternoon, and he was still stranded without a car. But his generous wife kindly offered to take us out to a Chinese buffet, and whisked him away with us in your jeep-mobile to our desired location. Upon entering the restaurant, I noticed an electronic cat waving at me from atop the salad bar! Some Chinese good-luck symbol, perhaps? I also marveled at two panes of glass with water flowing like a fountain between them! There we dined on rice, honey chicken, sugar dumplings, and fortune cookies and watched a very cute cell-phone video taken by Mrs. Maestro of their new grandbaby playing with a puppet.
Christmas is always a comforting time, complete with family, friends, good music, and good food. I am grateful to God for giving me the opportunity to enjoy these precious gifts, and to have cause to celebrate the most precious gift of all every year "in the bleak midwinter": the birth of the Christ Child.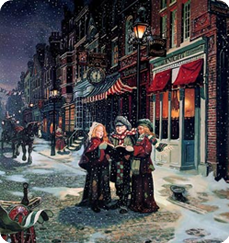 "Nowell, Sing We......"