is a poem comparing the vocation of singer and story-teller to that of the ancient bards who served at the halls of warrior kings/queens. It is also a prayer, asking for the gifts needs to weave yarns beautifully and truthfully.
Golden, glittering, glaring,
So my fingers may glow as I hold the pen;
Sweet, seasoned, simmering;
So my speech is like honey when I tell the tale
Crumpled, crude, queer-colored,
So beauty and grace my greet each eye
Silver, star-lit, spider-spun,
So the yarns may flow like a moon-kissed stream
Straight-shot, shimmering, shocking,
To cleave each heart so truth may enter in;
Let my harp strings sound
Merry, moaning, murmuring,
So all may partake in the many moods of life
Let me glimpse the ghosts
Fast-footed, fair-faced, fleeting,
To let the world know of their human hearts;
Twinkling, taught, tenacious,
That connects the present to the haunted past
Pulsing, pounding, puncturing,
So my voice may serve as a battle-horn;
Ringing, roaring, raging,
Above the din of battle and through the soul
Unicorn-horns, sword-hilts, and Christ's hem,
And lay them out in chapter and page;
Complete, coherent, concrete,
So this book may bring light to death-darkened eyes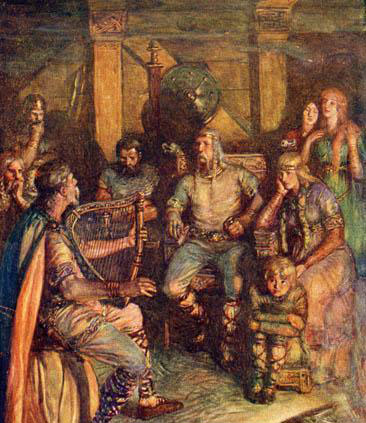 "My speech is like honey when I tell the tale......"