has a way of making me feel rather sick. You might be surprised at that statement, but somehow the methodology of modern marital preparations strikes me as being so over-the-top, extravagant, complicated, catty, worldly, and, to put it bluntly, sexually oriented. All these adjectives I have a deep loathing for, so I am naturally repulsed by the array of flashy catch items meant to make a solemn covenant of life-long fidelity into some sort of wild orgy.
For example, the styles of the day seem to dictate that wearing the most revealing thing possible on your wedding day is a way of showing the world what you used to hook your man! It's stupid and disturbing. Who would ever want to indicate that to begin with? And why would the guy ever let his bride be seen like that in public on their first day of wedded bliss? You wouldn't catch me that scantily dressed ever -- and I mean ever -- for anyone, and that includes my husband! It's lowering one's dignity to flaunt one's body that way. As a Child of God and a human being, I'm confident I'm worth more.
Then there's the issue of atmosphere. Yes, let's get married in the Galapagos Islands by a ukulele player surrounded by native island dancers and have a pig roast! No, let's get married in the arctic by an Eskimo encircled by penguins doing the hoky-poky! No, let's hang ourselves upside down at Blarney Castle so we can recite our vows to a wandering Leprechaun......!!! Give me a break! Has everyone forgotten the charm of normality found in a church building with a man of the cloth pronouncing the couple man and wife? And the honeymoon advertisements are just as bad. It seems as if everyone wants to go on the most expensive, opulent, stuffy escape ever taken by man (and wife, for that matter). And much of the appeal said to be found on the cruises and tours is that they are somehow "sexy." It's beyond me.
Furthermore, I hate to say it, but there are some traditional marriage customs that I find distasteful. For example, the bride having to walk up the aisle like a lamb being led to the slaughter with everyone gawking at her. Her father having to "giver her away" to an awkward groom, making it look almost as if the daughter is being disowned. The dizzying panoply of maids and grooms. Too many guests from one's past life that could count for as many past lives as belong to a cat. The dramatic entrance of the bride and groom at the reception. The big-deal-super-pressure dance they have to do. The generally over-elaborate food that looks "elegant" but sometimes tastes lousy. The frilly-and-fluffy outfits that are suffocating and easy to trip over. You get my point.
So here's how I'd like to be married. (No rumors; this is all hypothetical!):
Naturally, I'll be getting married in a Catholic church somewhere on the planet, although I can't foresee where, with a priest scheduled to perform the ceremony. I'd like to wear a fancy blouse with ruffles at the sleeves, a dress-belt, a long, swooshy skirt, and boots. Yes, you heard me right, boots. Simple lace veil. Simple bouquet, of which I'd like daisies and Black-eyed Susans to be a part. I'd like to take a seat in the front pew with my husband-to-be early, before everyone else arrives so there is no "big entry" involved. Our families can sit in the front pew across from us. When the time comes for the official ceremony, we just step up to the altar with no fuss involved and do what we're there to do. Then we return to our pew like normal human beings afterwards. One Maid of Honor is all I'll need, which will naturally be Emerald (yes, she does prove difficult at times, but I couldn't really do without her on my wedding day, now could I? ;-)
For the guests, at least on my end, it would just be my parents and personal friends who could make it out to wherever I was getting hitched. Sadly, that probably will make it difficult for most of them, since my contacts are so wide-spread, from my home in the Penn-Mar Borderlands to Alabama to Missouri to Texas to Canada to Britain and beyond! However, if I marry a prince or an oil tycoon, I'll be sure to send all of my intimates plane tickets! Even if they all did make it, that still would only be around 15 or 20 -- far less than even the bare minimum of Uncle Harrys and Aunt Ednas most people are obliged to invite to their wedding!
As for a party, a friendly reception in which everyone (including bride and groom) arrives at the same time would be delightful. As for dancing, keep it limited. If anything, maybe a bit of folk-style dancing just for fun. In the area of food, I'd actually like to make it. My idea of a good meal is an assortment of pasta dishes and salads, as well as some chicken and potatoes to supplement. Buttered breads, crackers, and cheese balls can cover the rest. As for cake, please no five tear monstrosity decorated to look like a dress or something!
I would suggest one normal size cake (Angel Food, carrot, German Chocolate, cheese....?) and some smaller desserts to supplement (pastries, like éclairs, or maybe some type of pie......coconut custard, pumpkin, blueberry, cherry.....?). And please no drinking -- I've witnessed weddings that go terribly awry due to that! Fruit punch or lemon water should be sufficient. If anyone feels the need to get themselves worked up into a state of sloppiness, let them do so after they leave the wedding.One traditional marriage custom I do appreciate is the exchanging of Welsh Love Spoons. I find them beautifully crafted and a simple yet unique manner of plighting one's troth.
As far as any trip, just as a wish list thing, whether I'm married or not, Britain will always hold pride of place, but that's just a wish. Failing that, I'll settle for the Historic Triangle down in Virginia as a nice Honeymooning vacation. Or maybe somewhere in Canada. I've always wanted to see St. John's. It all really depends on how things unfold. The one thing I know I won't be going for is some sort of atmospheric sense of "sexiness."
So, those are my thoughts on weddings and my own hypothetical one somewhere in the misty future --- I hope! How about the rest of you? If you're single, what kind of wedding would you like to have? If you're married, how were you married?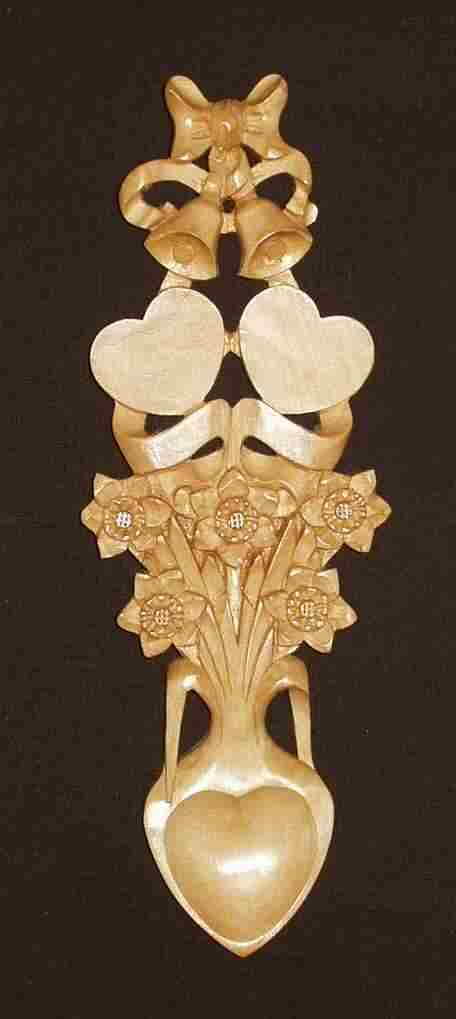 A Welsh Love Spoon -- Now there's a custom I like!
---
Check out my family's band, BlessTree, on BandCamp for music clips and price listings: http://blesstree.bandcamp.com