took place on January 21, 2013, the Feast of St. Agnes, one year ago today. The news was a shock to as all. Grandma had been in the hospital for pneumonia, but she had been physically pretty healthy hitherto, and we didn't really expect she would die. The suddenness of the event put us all in a rush. We had to borrow our friend Pat's van, since our car is far too old to have made the 5 hour road trip to Fort Lee, NJ for the funeral. We hocked several things, including my mom's wedding ring. We stocked the house, not sure how long we would be gone. We packed quickly, thrust our things into the van, and then both my dad and I headed out when it was still dark, at 5 A.M.
I remember feeling a sinking feeling of despair as we left mom behind. I have been away from her only rarely, and I was in a weakened condition because of the internal infection I had come down with just before. The weather was extremely bitter, the coldest day of 2013, and I had not slept at all the night before. I strained my arm just trying to put on the strange new seat-belt, and this, of all things, caused me to start to cry. But I held back the full flux of my emotions for fear of falling apart all together. It was going to be a long, long day. As we drove passed Gettysburg, I realized I was going farther from home then I had been in many years. New sights began to be seen.
Further north into Pennsylvania, I saw the factories, with their red lights glaring in the darkness, like something out of The Lord of the Rings. We also noticed that the farther north we went, the more unfriendly people's attitude got in general. Familiarity breeds contempt? Big cities? Too many people? Who knows! Give me Penn-Mar anytime!!! It was a long trip, spattered with some unusual scenery that did prompt some interest on my part, and a lot of toll booths, big trucks, rough roads, etc. When we finally reached Northern New Jersey, the sights blasted through my memory from my childhood. The skyline of New York! The Empire State building! The Hudson River! The Washington Bridge! Big, grand, epic things.
We went to up to our hotel room and prepared ourselves to head to the church. For the moment, I was buoyed by an excitement at being so close to "the Big Apple" with all the accompanying hustle and bustle, running into people from all parts of the globe, asking directions from construction workers and policemen with thick New Jersey accents. I could tell my father's own accent was coming back, just a tad. It was so exotic, for the time being. But going to Madonna Church assured that reality would strike. And it did.

Not here, please not here, I thought. Not the family burial plot. We had taken grandma there many times before, to go to mass at her parish church and to visit the grandpa I'd never met, before returning home to a lunch of ham sandwiches on potato rolls and macaroni salad. Then we would embark on one of our drives across the area in search of adventure. Maybe to the bluffs, or down by the shoreline of the river. Maybe to a relative's home. There was something about my grandma that was so alive, feisty, real, she seemed the direct opposite of death. She was truly a dynamo that few could forget.
Now, back in Madonna Church for her funeral, people start coming up to us, old friends, acquaintances from our past, saying they were sorry, and so many nice things. Then came my family, Uncle Bobby, Uncle Donny, Nancy, Aunt Lori, Aunt Jacqui, Uncle Louie, Maryana, and Ducan. I realized suddenly how much I had missed them, estranged as we had been. And then there was the carrying in of the casket. We sat in the pew behind them, and my godfather, Uncle Donny, shook my dad's hand. Blessed Mother! How long we'd prayed for that! The old grudge was finally breaking down, even as the priest spoke about a ship that sails into the horizon, beyond our sight, just as the soul leaves our sight when the body dies. And yet neither the ship, nor the soul, has ceased to exist. That is our stronghold life. Our last, ever-lingering hope.
At the end of the mass, we went out to the graveyard and each put a rose on her casket. The air was extremely bitter, and I felt my cheeks going numb and my eyes drying out. Good, I thought. At least I won't cry. The aunts and uncles were at their finest that day. They had worked so hard caring for Grandma, even when she had been impossible to deal with. She had always been stubborn, and the dementia had not helped matters. They had never left their native town, and she was their matriarch in a very localized sense. She was their hub. Now she was gone, and they had witnessed her dying, suffocating, so it was said. But in spite of it all, they handled themselves with true grace, staying above it to make others feel better, including myself.
My dad went back into the vestibule of the Madonna Church and took a picture of a painting of the Crowning with Thorns hanging there. The pain in Christ's face is so poignant, it seemed to epitomize my own emotions. Then we got back in the van and drove over to the restaurant where the family was congregating. There were long tables set up for all inside. My family always knew how to throw a good party, and this was just that. There were trays of breaded shrimp and onion rings, mozzarella and stuffed mushrooms, chicken and mashed potatoes, apple pie and cheese cake, not to mention an ample helping of alcoholic beverages that I, needless to say, did not partake in. Donny sat next to me and put his arm around me, as if I had always been his favorite niece. Nancy was oh-so-kind. Louie joked. Bobby and Lori hosted. Ducan and dad reminisced about their days as partners in show biz.
It was almost as if nothing had ever happened between us and them, as if the divisions of the past were nothing more than a dream, as if we were indeed one big happy family. But I knew it couldn't last. Their world was not mine. I'd have to go back, and they would forget this. Forget me and my father. Suddenly the moments became painful with the realization. Nancy's parents began to give me the third-degree about homeschooling and how I could handle not "seeing people", living in the hills or whatever. Donny starting mocking my British friends and Medici popes, just to get reaction. Jacqui was stewing over her own recent loss of miscarried grandbabies, ready to lash out at someone but being soothed by Lori. Ducan, true to form, hammered me into handing over the rest of my cheesecake to be devoured by him. And I began to feel extremely drained.
Out in the parking lot, the goodbyes sped by all too fast. It was like a film that goes over the budget. It was me and Donny, alone, me telling him I had missed him, and him playing his silly money-in-hand game like he had when I was a little girl, giving me a hundred dollars. Then we left, and I finally broke down in tears for a second time in the van. We started driving around Fort Lee, which suddenly seemed a menacing place. I wanted to see grandma, I wanted to see her so badly. And suddenly I felt the ghosts of the place, this place that had truly been my family's home, from the time they had come over from Italy and Ireland. This place that my father had grown up in, that the bones of my dear one's lay in, this place, this dead place. I wanted to go home to Maryland.
After struggling to get a proper hotel room (long story involving a trolley cart, an ice machine, and a convention of teenage talkers), we conked out from sheer sleep deprivation. But it was a fitful rest. Every few hours, I woke up with a start, wishing I was home and feeling very unsafe being so close to New York. The skyline was a vivid etching outside our 5th floor window, and I have always hated heights. I couldn't stop thinking of 9-11, King Kong, the Titanic, and the Potato Famine as I looked out on the metropolis. Hoping to watch some TV to take my mind off things, I had the thrill of discovering that the TV channels wouldn't come through!
The next day we were promptly booted out of our hotel room at an unreasonably early hour and, still sleep deprived and emotionally unsteady, made our way out to locate our long-lost cousins who had been looking forward to reunite with for some time. The result was near pandemonium as we lost our way along the coast of New Jersey, begging directions from a variety of rather blunt individuals who gave us contrary instructions in their distinctive accents. I began to feel as if I couldn't stand it any more, and wanted to go home. Now!!!!!!! But we forged ahead, getting cell phone directions from cuz which led us along the ocean (several times), over a few bridges (several times), in and out of the parking lots of shopping plazas, etc. etc.
In the end, we finally made it to our destination, and were most glad of it. My dear Aunt Laney, Uncle John, and Cuz John (plus puppy, Candy) were most hospitable to us in their adorable home, and we dined on roast beef sandwiches and brownies whilst discussing the broad spread of a lifetime of experiences. Aunt Laney also gave me some lovely things from her closet, including a flower brooch and a lovely leather pocket book, both of which of make common use of. After bidding them a fond farewell, we finally started the trek home through the night and reached the land of Lord Baltimore in the wee hours of the morning.
Thinking back on these experiences, I am grateful to God for giving us the strength to get through the ordeal and return home safely. I am especially thankful that there was peace and warmth among our family, even if only for a window in time. I still sometimes get waves of depression at Grandma's loss. As I say, she was a person who was so full of life, her loss is particularly keen. To this day, I am likely to break down in tears when I hear the song "Erin Gra Mo Chroi", which reminds me so intensely of her and of my own sense of being split between MD and NJ, my own "native land" and the land of my ancestors, many of whom came from Ireland in the midst of the horror of the Potato Famine.
I think it would appropriate to finish up this article with the words of that song, as well a request for you all to please pray for my grandmother's soul, my family, and myself:
O Erin gra mo chroi
You're the dear old land to me
You're the fairest that my eyes dare behold
You're the land St. Patrick blest
You're the bright star of the west
You're that dear little isle
So far away
At the setting of the sun
When my own day's work was done
I rambled down the seashore for a walk
And me being all alone
I sat down upon a stone
For to gaze upon the scenes of New York
With the turf fire burning bright
On a cold dark winter's night
And the snow flakes falling gently to the ground
When St. Patrick's Day has come
My thoughts will carry me home
To my own native land so far away
O the day that I did part
Sure, it broke my mother's heart
Will I ever see my dear one's anymore?
Not until my bones are laid
In their cold and silent grave
In my own native land
So far away
O Erin gra mo chroi
You're the dear old land to me
You're the fairest that my eyes have ever seen
And if ever I go home
It's from thee I never will roam
You're that dear little isle
So far away
You're my own native land
So far away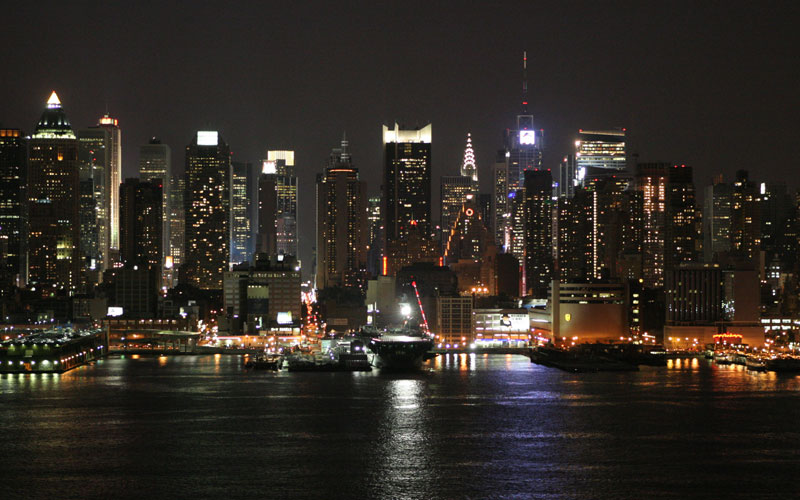 The Scenes of New York